Our low commission services are designed to save home sellers many thousands of dollars when we sell your home.
Most real estate agents charge a high commission when selling a home, some up to 3%.
We believe that with the advent of modern marketing techniques that commissions should not be as high as they currently are.
Low Commission Service
Pay a low 1.25% commission with our low commission real estate service.
On an average home sale of $600,000 other agents will charge a high commission of up to $18,000.
This same home sale price through changing homes low commission service will cost just $7,500.
Savings Using Our Low Commission Service
Others
(based on 3%)
Changing Homes (1.25%) 
Our Fee
You Save
Sale Price
$300,000
$9,000.00
$3,750.00
$5,250.00
$400,000
$12,000.00
$5,000.00
$7,000.00
$500,000
$15,000.00
$6,250.00
$8,750,00
$600,000
$18,000.00
$7,500.00
$10,500.00
$700,000
$21,000.00
$8,750.00
$12,250.00
Fixed Fee Service
This service allows home sellers to save even more on commission and allows the owner to be involved in the sale of their home.
The fixed fee amount is capped at just $3,500.
This represent a huge saving when selling your home.
Savings Using Our Fixed Fee Service
Other Real Estate Agents
(based on 3%)
Changing Homes  
Our Fee
You Save
Sale Price
$300,000
$9,000.00
$4,500.00
$4,500.00
$400,000
$12,000.00
$4,500.00
$7,500.00
$500,000
$15,000.00
$4,500.00
$10,500,00
$600,000
$18,000.00
$4,500.00
$13,500.00
$700,000
$21,000.00
$4,500.00
$16,500.00
Receive a professional service for a very LOW FEE

When you list your home with any of our Changing Homes Low Commission Services we will supply the following service:
Inspection of your property.
Advice on market price and conditions.
Providing comparable sales information to assist in establishing correct market price.
Preparation of a customised marketing plan.
Tips on preparing your property for sale.
Arrange photography of your property.
Prepare and write advertisement for internet.
Placement of your property on the internet for maximum exposure.
Prepare and edit promotional brochures.
Prepare and erect signboard.
Contact and provide information to current prospective purchasers on our extensive database.
Qualify all prospective purchasers.
Conduct personal and or open inspections of your property. (except for the fixed fee service)
Report to you verbally after each inspection.
Conduct regular reviews of marketing and competition relevant to your property.
Advise on strategy surrounding any interest or offers on your property.
Negotiate with potential purchasers.
Assist with selection of conveyancer/solicitor if required.
Prepare and provide relevant documentation to your conveyancer/solicitor so they can prepare your contract of sale.
Liase between vendor, purchaser, mortgage brokers, pest inspectors and both solicitors to ensure smooth exchange.
I found your service to be excellent and saved around $15,000 in commission. I would have no hesitation in recommending your company to family and friends.
Angela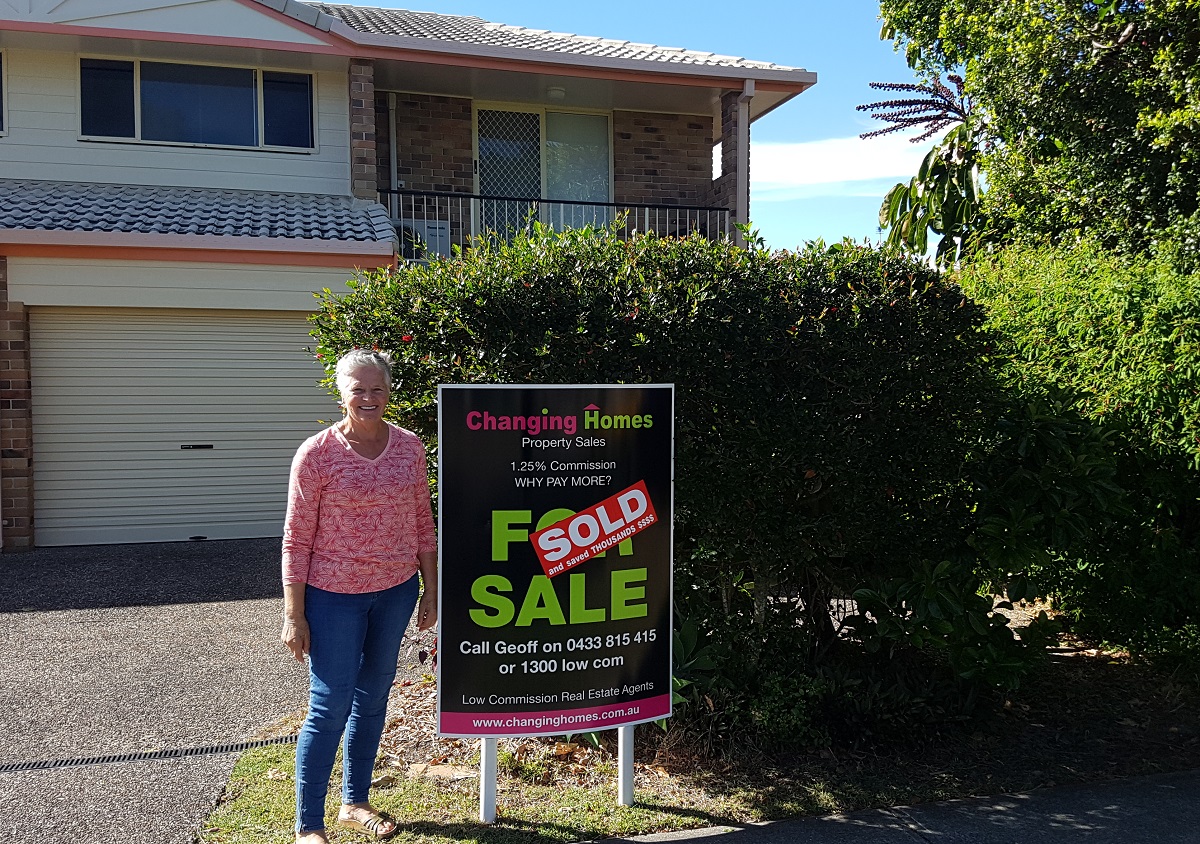 ANOTHER HAPPY CUSTOMER.
Kay listed her home through Changing Homes Low Commission Real Estate Service and within one week Geoff had sold her home for the full asking price.
Kay saved over $7,000 in commission.
Stop paying too much in commission. Kay received a better service and received a far better price than another real estate agent would achieve.
Geoff has sold many homes and you can be assured of receiving the best possible price when you sell your home through Changing Homes Property Sales.
How Much Will You Save?